Library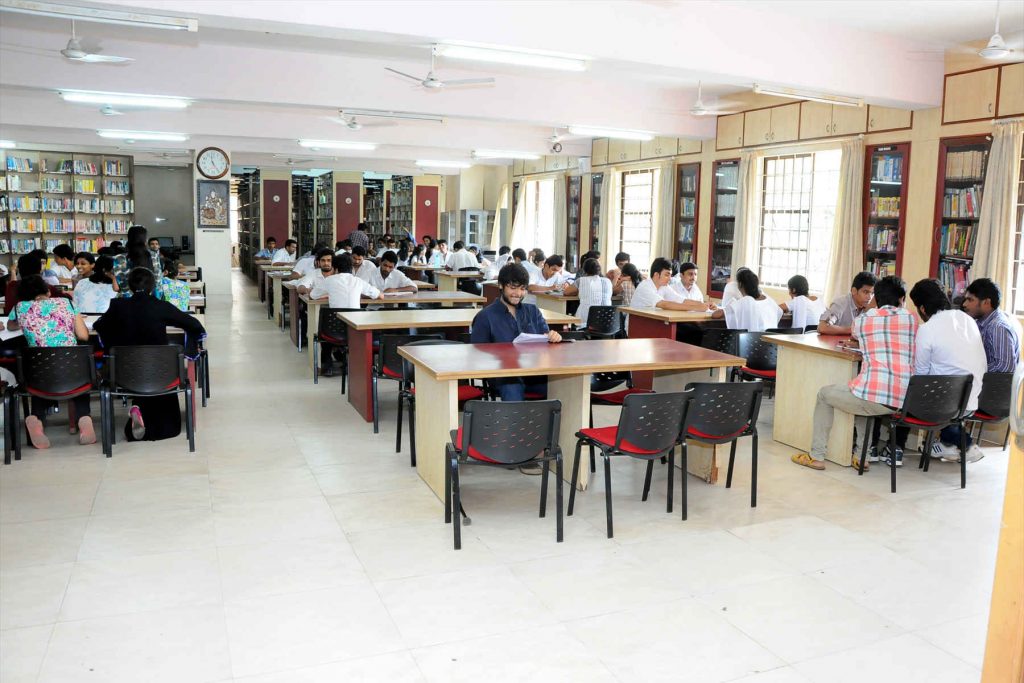 SDM College of Business Management established its library in the year 1978.It started its function with a vision to serve the information needs of its users. The library is located in the ground floor with an area of 4200 sq.ft, spacious with a total seating capacity of 175 users. The library has a collection of more than twenty Six thousand books and subscribes various journals ,magazines, newspapers and e-resources related to Management and other subjects. More than 6000+ e journals 1,99,500+ e books can be accessed under The Project entitled "National Library and Information Services Infrastructure for Scholarly Content (N-LIST)" of INFLIBNET Centre, Ahmedabad.
Objective : The main objective of the library is to serve the information needs of the faculty, students of the institute and the visitors. The aim of the library is to develop a comprehensive collection and holds the resources in an organized manner to fulfill the needs of the users.
Library Automation: Our Library is fully automated as it runs on in-house developed Educational Enterprise Resource Planning Management System (EERPMS) integrated software which is an imrovised version of ILMS.
Dspace : Dspace digital library software is used to build up digital collection. Institutional resources like previous year Question papers, Syllabus, College Magazines, Students Project reports are made available to the users through D space.
Link : http://sdm.ac.in/elibrary/
Library Hours: Monday-Friday 8.30 am to 5.30 p.m
Saturday 8.30 am to 1.30 pm
Library Collections:
| | |
| --- | --- |
| Books | 24784 |
| Titles | 12391 |
| Donated Books | 1518 |
| Journals | 21 |
| Magazines | 33 |
| Newspapers | 12 |
| Project Reports | 4647 |
| CD/DVD | 1607 |
| Back Volumes | 131 |
2. Rules and Regulations
Entry to the Library is strictly on producing of Identity Card.
The Library is open on all working days from 8.30 a.m. to 5.30 p.m and Satuday 8.30 am to 1.30 pm.
Students are allowed to borrow Two books at a time.
A student is given 15 days time to the borrowed books after which a fine at the rate of Rs.2 per book per day will be collected.
There is an option of getting the books renewed for a further period of 15 days. In such cases the student needs to reapply for the books and follow the borrowing procedure.
No book will further be issued to any student unless he returns the previous one.
Sub-lending of books is strictly prohibited.
Any damage done to the books in the custody of the borrower will have to be paid for; if the book is lost the cost of the same must be paid by the borrower.
Strict silence should be maintained in the Library.
Student's bags & personal belongings should be kept on property counter outside the library.
Newspapers and magazines in the Magazine section should be properly placed after reading.
Discussion, Murmuring & using mobile phones are strictly prohibited in the Library.
The Librarian is authorized to withdraw the library facilities, if the rules are not adhered to.
LIBRARY SERVICES
Circulation / Lending Service: All books are barcoded , issue and retun of books are electronically maintained with the help of EERPMS software. Each student is eligible to borrow 2 books and each staff 15 books at a time.
Book Bank Services : To provide books for economically and socially backword students.
Open Access Facility: Library is practicing an open access facility with Dewey decimal classification with bar code system. Users can opt for any books of their choice.
Reference: Library has huge reference collections like Encyclopedia, Dictionaries, Year Books, Biographies, Handbooks, General Studies, Competitive Study books etc. in reference section.
Online catalogue: OPAC is an online public accessing catalogue. Through OPAC one can access availability of library books, journals and magazine by author, title, subject , publisher, accession number and Call no.
Web OPAC URL : http://125.20.85.90:8080/EERPV3.0/OPAC/index1.jsp?ID1=SDMCBM
Reprographic Services: Photocopy facility is provided for students at concessional rate and faculty for free of cost through the reprograhy centre housed in the library.
New Arrivals: The new arrival books are displayed in the new arrival rack.
Learning Resource Center: The users of the library can make use of learning resource centre which has 10 computers for access to e-resources.
Current Awareness Service: Important local and National news papers are clipped, and maintained. The library notice board is updated on a daily basis with information on movement of Sensex, current news items. Apart from this there are three other attractive library notice boards:
1. Oasis- it covers articles on thoughtful quotes.
2. Speaking tree- it covers article relating to meditation, philosophy, prayers, values, morals, ethics etc
3. Do you Know- this section covers information unknown facts.
User Education: Annual Library Orientation program for new users and special Sessions on online access to the journals, articles, informative sites are organized.
Current Content of Journals: A scanned copy of the management journals content page is sent to each faculties via mail every month.
Institutional repository: D-Space is institutional repository software where-in students can access project reports, syllabus, previous question papers with just one click.
Inter Library Loan: Library has inter-library loan facility through which the users can access all facilities from our sister institutions.
E-RESOURCES
N-List (INFLIBNET) – National Library and Information services Infrastructure of Scholarly Content. It is a college component of E Shodhsindhu.It covers more than 6000 articles and more than 1,99,500 e-books. Students can enroll by giving their e-mail ID's and a dedicated password will be provided. The Consortium subscribes to the following resources for the colleges. All electronic resources subscribed under N-LIST Programme are available from the publisher's website.
SAGE Journals – SAGE is a leading international provider of innovative, high-quality content publishing. Our college is been subscribing 10 printed journals with free online access.
National Digital Library of India National Digital Library is an all digital library that stores information about different types of digital contents including books, articles, videos, audios, thesis and other educational materials relevant for users from varying educational levels and capabilities. It provides a single window search facility to access digital contents currently existing in India as well as other digital sources under a single umbrella. At present more than 8 crores digital resources are available at no cost.
5. OPEN ACCESS E-RESOURCES
Books Published by the Faculties